This is the #1 fan site dedicated to the renowned former nude model, Anna Sbitnaya. This site exists to provide fans with accurate information about Anna. Special thanks to Oliver H., Manfred B., and everyone else who has helped contribute.

Anna Sbitnaya (Анна Сбитная is her native cyrillic name) is a Ukrainian model, Playboy Ukraine's Miss September 2011, and was the long-time flagship model of Hegre-Art and Met-Art, where she was known as Anna S and Anna AJ respectively. Anna is 25 years old as of December 24th and was born in 1987 in Kiev, Ukraine. She is 5'7" and weighs about 105lbs (+/- 3lbs. depending on what she ate today). Anna's real name when translated from Russian to English is "Anna Sbytnaya", and is the way she spells it in English, but she is also known on the Internets as Anna Sbitna, Anna Sbitnaya, Anna Sbitnev, and Anna Sbitnaja. Her outstanding poses, great photographer selection, and unique combination of sexy and adorable quickly made her one of the most popular nude models on the planet.



11/5/13 - New set released yesterday at Met-Art called Laea. Another B set that isn't quite up to the quality you'd expect. There is a lack of sharpness in most of the photos and unusually high JPG compression in others.

10/13/13 - New set released yesterday by Leonardo at Met-Art. It's part of the final shoot Anna did for Alex Voronin (Leonardo) right before her Playboy shoot. It's definitely a backup set that he probably wouldn't have released if she was still modeling. I found this surprising since the prior set, Alhora, was very good..

10/11/13 - This site is being re-designed soon. I am actually a web designer, though you certainly wouldn't know it by this site! (Honestly, I created this page in about 30 mins, not knowing it would be that popular). I'm testing out some Wordpress themes and will be using this site as a testing ground, so to speak. I realize that Anna isn't as popular now since she has retired from doing the nudies, but I don't see her popularity vanishing that quickly - so the site will live on with a much better look, cool features, and [gasp!] modern web standards. I don't have a timeline, but figure a month or so.

10/10/13 - Just an FYI - Anna got married about a year ago. I can understand how awful that must sound to those of you who thought you had a shot, but lets be honest...most of you, according to my server logs, are not from the Kiev area so your chances were a bit slim to begin with. :)

I do not know her new last name, though I'm sure it's just as unpronounceable as her maiden name. Her husband is pictured with her in a candid shot down below. Belated congrats to her and hubby.


Met Art
11/24/13, Gorria (119 photos)
11/5/13, Laea (165 photos)
10/12/13, Diesi (162 photos)
9/3/13, Alhora (142 photos)
8/1/13, Embedida (150 photos)
Hegre-Art
10/2/12, Studio Session (7:51 video)

Full Gallery List (Work in progress)



Anna was the only nude model in history to ever be the #1 ranked model (by member votes) on Hegre-Art, Met-Art, and NuDolls simultaneously - an unprecedented benchmark. She is a mainstay in the top 3 on Hegre-Art despite not having posed for the site in years. She consistently ranks well on Met Art and NuDolls. Best known for her natural, ideal feminine features on a petite frame, she takes the typical Ukrainian body type to a new level with a 34-22-35 inch figure and an almost perfectly symmetrical face that looks good with any hair color - and probably with no hair at all. She is as much a knock-out with blonde hair as she is with her natural brunette color. Earlier in her modeling career she posed as a blonde, but her later gigs used varying shades of brown hair.

Anna burst on the scene and became wildly popular after her "Nude Wimbledon" photo set from Hegre-Art was released. Many still consider it one of her best sets. She has since posed nude in nearly 200 unique galleries across 4 web sites with many different looks and from many exotic locations. Her nude work culminated with her being named Playboy Ukraine's Miss September 2011. She remains an active model for Playboy, and was featured in the October 2011 edition of Playboy in the Czech Republic. She has seen increasingly more fashion gigs as well as her popularity grows. Overall, most of her work has been with Hegre-Art as "Anna S" where she remains the site's most photographed and highest rated model (based on member votes) by a wide margin.

The galleries below contain sample photos from each particular site, along with a sign-up link if you want to access all of the galleries.
---
Met-Art


Anna began modeling for Alexander Voronin (aka Leonardo), on the web site Met-Art in 2008 as "Anna AJ". The AJ does not relate to her name - the site uses consecutive letter designations to differentiate models with the same first name (AB, AC, AD, etc.). She was an active model for the site until 2010 but the site continues to release photos shot during that time frame. The first set published was titled "Anna", released in May '08. Her photos appear noticeably different from those taken by Petter Hegre. There is a large amount of makeup used on her face in addition to post-shoot airbrushing, which makes Anna appear 5-10 years older. This also gives her smoother looking skin and a more polished look. However, these enhancements result in the loss of facial detail and less candid-looking photographs.

Total # of Anna photos: 4,942
Total # of Anna videos: 6

Monthly Access is $29 and includes full unlimited access to Anna and 2500+ other models.

Our Take: These are the newest photos of Anna. Her look is different in these sets. They are more similar to Playboy-type photos in the use of airbrushing, but the airbrushing is much better than what you typically find in Playboy.
---
FM-Teens / Young Pink Teens


Anna appears in 21 nude videos on FM-Teens with corresponding picture sets. In many of these she appears with another model, Mariya, and there is a lot of improvisation which leads to some funny scenes. She also appears in 15 additional videos under the Young Pink Teens series which contain full girl-on-girl action, also with Mariya. These are her only known hardcore work and it is pretty impressive. She does not hold back, that's for sure. This is considered to be her first nude modeling gig.

Total # of Anna photos: 600+
Total # of Anna videos: 36

Monthly Access is $29 and includes full unlimited access to all of Anna's videos and images, including the "hardcore" stuff, plus those of every other model on the site.

Our Take: Her hardcore videos and photos are the big draw here and they deliver in every way. There are plenty of close-ups, Anna as the giver and receiver, and even dildos (Anna + dildo = a good time). She is pretty cute in the non-hardcore videos too. Overall definitely worth paying for. The still image sets are high resolution shots taken during filming of the videos.
---
Hegre-Art


Anna began modeling for Petter Hegre, the owner and primary photographer of Hegre-Art, in 2006. Her first still image set to be published by the site, "Nude Wimbledon", was released in early 2007 and was a jaw-dropper. Anna is featured in over 150 galleries for the site. Hegre-Art also released HD videos of some of her photoshoots. Her first appearance for Hegre-Art is actually one of these videos, entitled "Beauty in Bed" which was released in early 2007. She has been photographed with every conceivable human hair color (black, numerous shades of brown, blonde, and red), though recent shoots primarily were with black and dark brown. The site incorrectly lists her age as 19, though she was born in 1987.

Shot at 39 megapixels using a Phase One / Hasselblad digital kit, Petter Hegre's photos are very detailed and she lacks the heavy makeup found in her Met Art galleries. Hegre takes pride in using very few Photoshop touch-ups on his models, with exceptions. For example, the scars on her legs are airbrushed out in nearly all of his photos and her skin is lightly airbrushed. However, his photos of Anna are the best representation of what she really looks like. In some of them, Anna is wearing almost no makeup. The least airbrushed photos of her probably are the very first shots taken by Hegre-Art, titled "First Photos". Though released in early 2009, the set was shot in 2006 and uses very minimal touch-ups.

Hegre galleries of Anna are not released in the order they are shot, as the site continues to release "new" sets of Anna that were shot 2+ years ago. Anna's Hegre sets were typically shot in groups at the same time (the set and wardrobe are changed) and then released over a period of time. Hegre also releases her sets out of order, sometimes months and in some cases years after they were originally shot. It is for this reason why she appears of varying age in consecutive sets.

Hegre-Art has released a few candid making-of videos that depict Anna in a more down to earth fashion. The site also publishes several behind the scenes photos of Anna and its other models. Occasionally, Hegre will release a photo set of Anna that includes a candid picture or two of her making funny faces and/or holding a gray card (the shoot entitled "Pink Teddy" includes one of them).

As of 2010, Anna no longer actively models for Hegre-Art. Her final original shoot was "Massage Socks", released in May 2010.

Total # of Anna photos: 9,954
Total # of Anna videos: 25

Monthly Access is $29 and includes access to Anna and every other model on the site. More photos than you and your entire family (if your whole family was into porn) could look at in a lifetime.

Our Take: It is the best value of the sites listed here if you want the most HQ photos for your buck. You only have to sign-up for a month and can still download every picture Hegre-Art has ever taken of her in easy ZIP format. They also give you access to every other model on the site. But, who cares. You're here for Anna.
---
NuDolls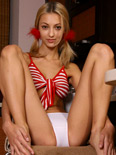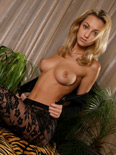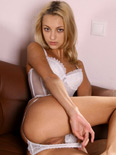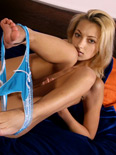 Anna Sbitnaya modeled nude for this web site, which primarily features Ukrainian women, using just her first name for a few months in early 2008. Four sets containing 100+ photos each have been published. Her NuDolls and FM-Teens photos have very little, if any, airbrushing and are the only sets that consistently depict the scars on her body. She appears quite young in these photo sets, but looks closer to her real age in the photoshoot videos released with the sets. These videos also feature Anna performing self-stimulation, though it is not the hardcore stuff you will find on FM-Teens. Since the videos are shot following the photoshoot, her poses in the video different from the still images. Anna is the #1 ranked model on NuDolls based on user votes.

Total # of Anna photos: 439
Total # of Anna videos: 4

Monthly Access is $29 and includes access to Anna and every other model on the site.

Our Take: If you need to have every Anna image ever taken, go for it - it is near-impossible to find these galleries online. But compared to the other sites, 320+ galleries of 60+ models and only a few Anna galleries make less content for $29. There is, however, a pretty good bio of Anna (translated from Russian) and four videos, a couple of her diddling herself.

---
Candid Photos
Below are candids from photoshoots and on-location snapshots.





Alexander Veronin - Independent Photos
Below are links to some photos by Alexander Veronin, her photographer for Met Art. These are part of a shoot that has not [yet] been released as an actual gallery. These were taken Summer 2010.




Jaroslav Monchak - Independent Photos
Jaroslav does a bit of fashion/glamour photography and you can check out his site here. He uses Photoshop with his shots to create unique lighting situations, but the end result is very nice. Whichever company makes those boyshorts she is wearing found themselves a pretty good model.




Magazines
Proof that Anna is just as sexy with all her clothes on. Below are various photo shoots published in magazines and from unidentified sources.




XXL Magazine Russian - July 2011




XXL Magazine Ukraine (shot by Julia Skalozub) - May 2011. Julia is the same photographer who shot her Playboy spread for the Ukraine Playboy September 2011 issue.



High-resolution scans of these photos from Ego magazine can be found here.



With Anna's looks it is no surprise that she also does magazine and non-nude modeling too. Above are some recent fashion ads and Anna's covershoot for Ego magazine, a Russian publication. Below is Anna in a photoshoot by Sergey Vinnik for the "Street Fashion" segment in LQ Magazine. Anna also modeled (and probably owned the winning car) in a Car & Tuning show as a blonde and received a Miss Car & Tuning award/designation. If you know of any other non-nude shoots besides these, please e-mail me.


You might find it odd that the "About Anna" section is not at the top of this page. Don't.

Interests
Anna currently resides in Kiev, Ukraine. She loves animals (also a vegetarian) and enjoys psychology, meditation, muscle cars, and extreme sports. Her hobbies have been incorporated into some of her shoots - she has posed on a Harley and while meditating in Hegre-Art galleries. Her Playboy shoot featured her with horses, of which riding is another of her hobbies. She loves Japanese food and posing naked. That last item was just a guess. Her favorite movies are Paris, je t'aime (I Love You), Amelie, and 9 Songs. She enjoys the literary works of Franz Kafka, Ray Bradbury, and Edgar Allan Poe. Quoth the Anna, Nevermore.



Sorry, wish these were bigger...as big as I can post. The larger versions are available if you subscribe to Hegre-Art.com.

Some of her fans have wondered that since she has never done a photoshoot of any kind with a male and all of Anna's "hardcore" work is with another woman, that she might be a lesbian. She is not a lesbian. She enjoys the mens.

Age Misrepresentations
Anna is 25 years old. While most of the sites she models for list her as 19, she is in fact a bit more matured. She began modeling at age 19 and her work from younger years can be found on FM-Teens and early galleries from Hegre Art. Her work for Met-Art makes her look 30 due to the aggressive airbrushing the site uses.

The Body
Anna is reknowned for her distinct body type. Her (natural) breasts and rear-end appear out of proportion with the rest of her body...a term we call "hot". Her breasts appear huge in some photo shoots because Anna is a very small girl (5'7", 100lb is tiny). Her ultra-thin waist gives the illusion that her chest is much larger. When pictured next to others, such as in the second photo above with two of Petter Hegre's assistants, you can get a better frame of reference of her very small size.

Our favorite Ukrainian bombshell has a bunch of scars on her body including significant ones on her right leg. It is not public knowledge how she acquired them. Some possibilities include: car accident, fell out of a helicopter, or a stint in extreme S&M. Her scars are airbrushed out in photos on Hegre-Art and Met-Art, but are visible in her other work. Most of her videos, even those on Hegre and Met, show the scars.
Anna has a nice smile, but Anna's photos rarely showed all of her front teeth. She has a space between her right canine and the surrounding tooth. It is not a good enough excuse to make her smile with her mouth closed in every picture, but the sites she models for must have felt it took away from her appearance. Some shoots from Hegre-Art contain shots of all her front teeth. In fact, her "Wet Trio" and "Wet Suit" sets have quite a few of them. And she's still cute.
Comedian
Anna has been quite comedic, both intentionally and unintentionally. She breaks out of character and laughs in some of her videos, including surprisingly, some of her hardcore videos on FM-Teens (she covers for it by putting her hand over her face or turning away). If you subscribe to Hegre-Art, you have probably seen some shoots that include candid photos of her making goofy faces.

One of her funnier video moments is in the "Making of the Eiffel Tower Shoot", where she is visibly and audibly embarassed that passers-by might see her naked, as the shoot takes place in a public park in the city. She does not, however, have any issue with thousands of folks on the Internet seeing every inch of her body in vivid detail. Maybe she doesn't know how popular she is. Anyway, this particular video is the only time you hear her speak English. Though you cannot quite understand everything she is saying, you can hear her yelling "Oh my god!" when a passer-by notices her.



Photos courtesy of Hegre-Art.com. Larger versions and many more behind the scenes shots are available to Hegre subscribers.

Languages
Anna can speak Russian, English, Hindi, French, and Dahalo. That's a lie. Only the first two are true. One of her former photographers, Petter Hegre, spoke to her in English when coaching her in photo shoots. Her video "Shower Time" released in March 2010 was the first to feature Anna speaking clear and coherently - though in Russian. She speaks English, though much of it is inaudible, in the Eiffel Tower video for Hegre. You can also hear her voice in some of the FM-Teens videos, though she is not really "talking" in the hardcore stuff.

Frequently Asked Questions
What is Anna's natural hair color?
A: Brown.

Is Anna a vegetarian?
A: Yes. In fact, she eats a vegan diet.

I'd like to book Anna for a shoot. How can I do so?
A: Anna has asked not to be contacted for bookings, presumably because most of them involve nude shoots and she is finished with that type of modeling.

What is Anna's breast size? Are they real?
A: 34B. They are real and Guiness is in the process of certifying them as the most perfect, natural 34B's in history.

I saw Anna on Fashionbank. What is that?
A: It is a [primarily] European model community where independent models, photographers, and others in the fashion industry can calloborate and post their portfolios in order to land jobs.

Anna did a photoshoot where she smoked. Is Anna a smoker in real life?
A: Yes. If this turns you off, just look at a photo of her not smoking and you'll forget all about it.

Does Anna have a Facebook or Twitter account? How can I contact her?
A: She does have a Facebook and Google+ accounts but keep that between us. Seriously, be nice to her. I have tried to setup fan interaction-type stuff with Anna for the site, but she is very shy about participating. If she read all those comments on Hegre Art, I don't blame her. :-)

Contribute? Candid photos, audio, or any verifiable info not mentioned here.
Have anything to share or just want to drop a comment?
E-Mail: info@annasbitna.com